It's a mutual loathing...I'm working away at setting sleeves the 18th century way which involves sewing the bottom half of the armscye then fitting the top over the shoulder...or in my case on the dress form, take the dress off try it on, take it off move pins, try on again, lather, rinse, repeat. I've gotten them to the point where it looks perfect on the dress form, and it fits wonderfully if I stand with my arms slightly out in that quintessential 18th century pose..but if my arms are straight down I have wrinkles!! And I'm starting to think that's just the nature of it. Looking at extant dresses the sleeves DO seem to stick out a bit and not hang straight down.
At THIS angle they're perfect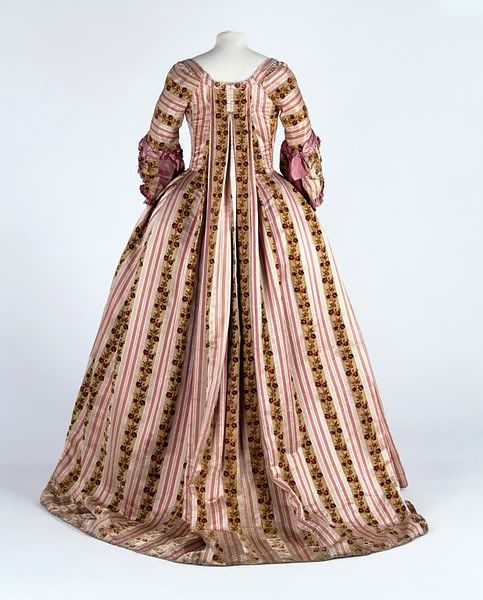 Same as this:
So I'm starting to think that's just the nature of the beast? Silk taffeta isn't stretchy enough to be perfectly smooth in every angle, so you have to pick one and this is their favorite? If I made it perfectly fitted with my arms down I wouldn't be able to life them at all, and while you'd never wear this dress for manual labor you still have to lift your arms to get a fork to your mouth!
I hate sleeve.